In an acrostic, each line or paragraph starts with the first letter of a word or phrase. It's a simple yet effective way to learn how to express thoughts and sentiments.
As simple as an acrostic is, it can be incredibly effective for helping you share your feelings and thoughts. For example, here is an acrostic using a very special word: friend!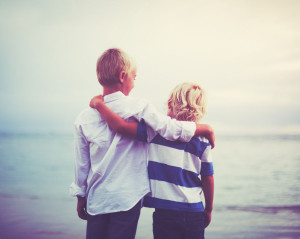 F – Fun. Friendship is about having fun. That's how it starts when we are kids, and that's what keeps it going as we age. Friends are the ones with whom you are silly, the ones with whom you have adventures, and the ones with whom you commiserate as you grow older. A good friend makes you laugh until you hurt, and there is nothing more fun than that!
R – Ready. Friends are the ones who give us the pep talk when we need it and help us shape our dreams so we can actually achieve them. The best friends are always there, ready to help us when we need it. They are always only a call away!
I – Interesting. Think of the most boring person you ever met… did you end up friends? Probably not. Friends challenge you, open your mind to new opportunities, make you think, and keep you current. They are interesting, and they find you interesting, too.
E – Engaging. When you are with your friends, it always seems like there is never enough time. That's because it's so fun and engaging. Good friends engage us in their lives, their passions, their joys – and help us to enrich our own!
N – Nourishing. Friendship is vital to life. We all need it. We need that connection and love to feel human. A good friend nourishes your soul and makes you feel good about yourself.
D – Devoted. A devoted friend is the greatest gift. They are always there right when you need them, even if you don't ask for help. Strive to be a devoted friend and you will find yourself surrounded by devoted friends who are always there for you.
So there you have just some of the characteristics that make friendship fantastic! All done with the simple help of an acrostic. Try your own today!
Hug a friend Today.
To your continued success,
Cynthia Kelsey
Sandra Vint
cynthia@sunshinemarketers.com